Skip to Content
Things to Consider When Choosing a Swimming Pool Cleaning Company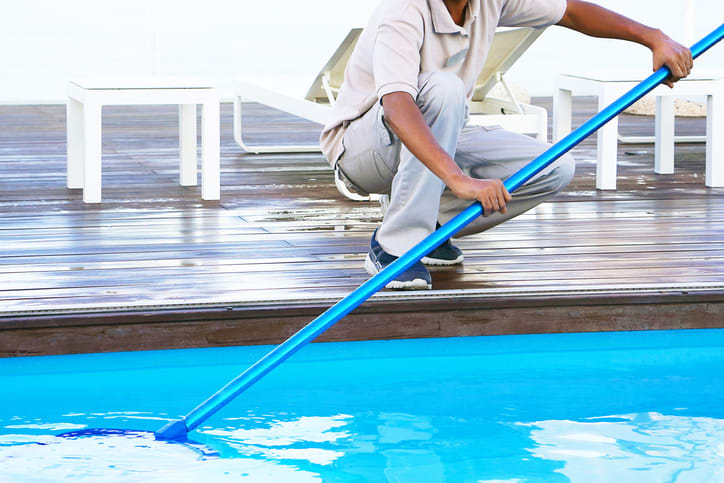 Whether you have a backyard swimming pool or you manage a public pool, keeping the water clean is vital for ensuring health and safety. This involves adding the proper chemicals, vacuuming the pool, cleaning the skimmers, backwashing the filter, blowing the deck area, and more.
You may not be eager to perform these tasks yourself, which is why you're thinking about hiring a pool cleaning company in Maryland or Virginia. Here's what to look for in the company you choose to clean your residential or commercial swimming pool.
Experience
A pool maintenance company with years of experience is more likely to perform a job well done than a startup. After years in the business, cleaning a swimming pool becomes second-nature to experienced technicians. They understand the health and safety regulations they must follow and can offer pool owners advice about getting the most from their investment.
At Millennium Pool Service, we have over 35 years of experience cleaning backyard pools and commercial aquatic features. In that time, we've seen it all, giving us the know-how required to deal with any unforeseen situations that arise while cleaning your pool.
Industry Training
The technicians who come to your door should be trained in the proper use of pool cleaning equipment, chemicals, and best practices to ensure the health and safety of your swimmers. Proper training reduces the risk of any incidents.
The team at Millennium Pool Service is highly trained. In fact, our comprehensive program includes bi-weekly local classes and national training, making our technicians among the best trained in the industry.
Reputation for Good Customer Service
Pool cleaning companies in Maryland and Virginia must provide superior customer service to stay in business. After all, it's not just about how clean the pool is—it's about how a company builds a relationship with its clients.
Millennium Pool Service is proud to offer exceptional customer service. We do everything we can to accommodate your schedule and perform pool cleaning when it's convenient for you. We also make it a priority to be responsive, professional, and courteous in all our interactions with you, the customer. Read our reviews to see what our happy clients have to say about us!
Repair Services
When cleaning your pool, a technician may detect a leak in the liner, problem with the filter, or other defects. Addressing these problems promptly helps prevent them from getting worse. The most convenient option is to choose a pool cleaning company that also offers pool deck repair. This way, you don't have to find a different company to provide these services when you need them.
The comprehensive offerings from Millennium Pool Service include leak detection, tile and plaster restoration, pump replacement, and other pool repair and renovation services. Our goal is to serve as a one-stop-shop for all your pool cleaning, maintenance, and inspection needs.
Give us a call to learn more! We have convenient locations in Frederick, MD and Springfield, VA to better serve you.
Request an Estimate Today