Skip to Content
Pool Plaster Services in Frederick, MD & Springfield, VA
Pool Plaster has been used as a swimming pool surface coating for the past 50 years. There is no other pool surface on the market with this time tested history. Factoring in the long life span of plaster, it truly is the most economical option for your pool's interior, and thus a real value for your investment.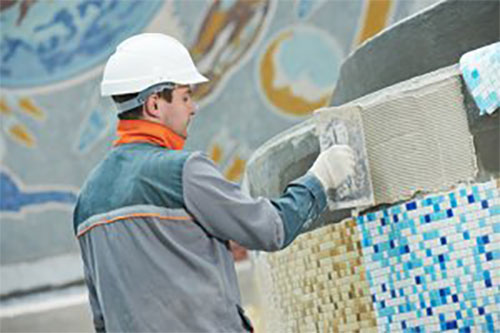 Pool Interiors
Millennium Pools & Spas offers several options for your pool interior:
White Plaster
Traditional white plaster is the oldest and most common pool finish. White Portland Cement and Marble Sand are combined with water to create the plaster for the pool's interior. When you think of pool plaster, you normally think of the smooth, white plaster surface that turns a sparkling blue when filled with water, but there are actually many choices that can be made. We offer many different colors that can be applied with the plaster to your swimming pool surface.
A new plaster surface will give 8 to 15 years of good service.
The Benefits of Plaster
PLASTER IS A TIME TESTED PRODUCT:
Plaster has been used as a swimming pool surface coating for the past 50 years. This experience has shown that plaster is a durable surface that can stand up to the environment of proper pool water chemistry. There is no other pool surface on the market with this time tested history.
PLASTER IS ECONOMICAL:
Plaster is the most economical pool surface. Its initial cost is well below more expensive options. In addition, the average plaster surface can easily last 15 to 25 years, which makes plaster one of the most economical components of a swimming pool. That's value for your investment.
REPAIRABLE AND FORGIVING:
Taking care of your pool takes time and attention. As time goes on and mistakes are made, a pool surface can become stained, discolored, and/or damaged. Stains on a plastered pool can be chemically removed or sanded off. A plaster surface can tolerated several of these procedures in its lifetime.
PLASTER IS LONG LASTING:
The secret to long life of any pool surface is properly maintained water balance. Improper water balance will destroy any pool surface and in many cases, void the warranty of that surface.
PLASTER IS AVAILABLE IN A VARIETY OF COLORS:
Pool Plaster is available world-wide. You need not worry that your pool surface will become obsolete. Plaster can be done in a wide variety of colors to create any appearance desired. The color is not just surface coating but continuous through the entire material. In addition, options are available for different finish techniques including exposed aggregate, that allow for great variety in obtaining a desired pool appearance.
TINTED PLASTER:
The shade and darkness of your plaster pool surface can be customized to achieve dramatic effects. Medium Gray plaster enhances the blues of your water and provides a look of cool depth. Dark gray or black plaster provides a stunning deep lake appearance and is the popular choice for blending you pool area into a natural landscape.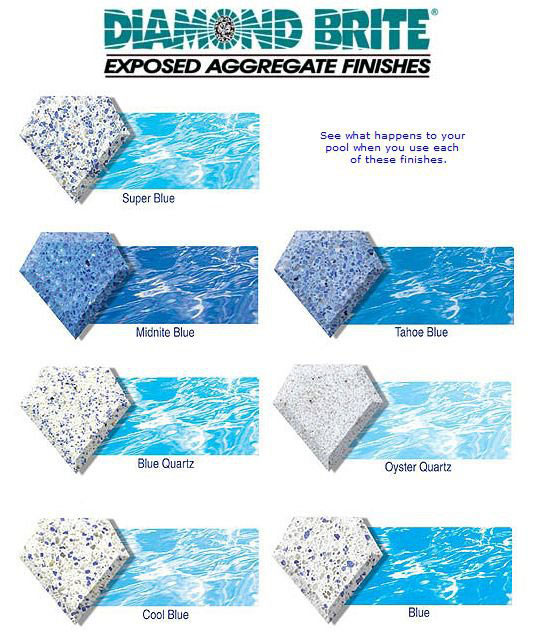 Quartz Aggregate
The Quartz coating is a pre-blended mixture of CLI quartzes, white Portland cement and polymers. This skid resistant pool finish is textured due to the exposure process. It comes in many different colors. A quartz interior pool surface is actually a plaster surface with quartz aggregate mixed in. There are two benefits with quartz.
First, quartz is a very hard material. And because a percentage of your pool interior surface is now covered with a hard, non-porous, stain-resistant material – quartz – you have a more stain-resistant, more durable and longer-lasting surface than plaster alone. Second, people like quartz because you can introduce a variety of colors into your pool interior with it. Quartz is priced slightly higher than traditional plaster.
Tile, Coping, Stone
Millennium Pools & Spas offers a full selection of materials and textures for a truly custom pool renovation. Our coping choices are unmatched: pool brick in custom colors and sizes, precast concrete in unique colors and textures, flagstone, cut stone, rock, and EP Henry pavers. From subtle desert shades, to lush colorful hues, our hundreds of tile and coping choices will transform your pool/spa area into an oasis.
We have a huge selection of tile materials and styles to choose from. Our sales staff will work with you to design the perfect look and feel for your pool. Our custom renovation services give you the option of designing your pool any way that you can imagine. Our main focus is to make sure your vision becomes a reality when it comes to your project. Call today and let us know us know how we may be of service to you. Our staff is available year round to meet with you and start planning your renovation project.
Decking
The decking surrounding the pool is an integral component in the overall look of the renovation. We provide every conceivable option for the homeowner.
Premier Pool Renovations Offers
STAMPED CONCRETE PREMIER POOL RENOVATIONS:
Can give you the look and the feel of slate, stone, brick and other amazing textures… all created with durable and long lasting concrete. The beauty and versatility that can be achieved with Decorative Stamped Concrete… will help create the pool deck or patio of your dreams.
BROOM FINISH CONCRETE:
We can remove your old cracked/uneven concrete and pour a new deck. The new concrete is poured over a crushed stone base with reinforcing rebar as needed. We use colored PVC as the new lateral expansion joints, which are intended not only to last longer but to better complement the surroundings.
INTERLOCKING PAVERS:
There are no limitations with what you can do using pavers now in a variety of sizes, styles, colors and shapes. Your pool deck and patio enhanced with rich color, remarkable smoothness with skid resistance, and extreme durability. *At this time Premier no longer installs interlocking paver decks directly. Instead we will work with your contractor in this phase of the renovation.
RESURFACING SYSTEMS:
These will make your existing swimming pool decking or patio like new. Designed as a solution to the costly problems associated with deteriorating masonry surface areas as well as a way to give a new look to plain concrete.
Sealants
A specialized caulking, called Mastic, is installed in the expansion joints between the coping and decking of the pool and in any gaps found around masonry. When Pools, Patios and Walkways are built they must have expansion joints. These gaps are necessary to allow for settling and insure your pool deck has room to move without causing damage to the pool coping. One of the most important expansion joints exists between the swimming pool coping and the decking around the pool.
Expansion joints are sealed with a semi self-leveling material designed for this masonry application. This engineered polyurethane material is the highest quality and will insure a lasting seal. We offer the caulking in several colors to complement the existing coping, decking and masonry.
Request an Estimate
Our estimates are free, professional and fair. Most estimates require a site visit. Response time will vary depending on the time of the year and the type of request.