Skip to Content
Pool Deck Services in Maryland
Pool Decks in Frederick, MD & Springfield, VA
Millennium Pools & Spas provides professional pool deck services throughout Frederick, MD and Springfield, VA. Swimming pools of all sizes are significant investments, and so are the vinyl pool decks that surround them. It's essential to ensure your above ground pool decks is durable, safe, and attractive. Our expert team offers pool deck coating services that will enhance the aesthetics and quality of your entire yard. These services and our other composite pool services will help ensure your pool is safer and more enjoyable. We can help you upgrade and update your pool deck for durability, appearance, and safety.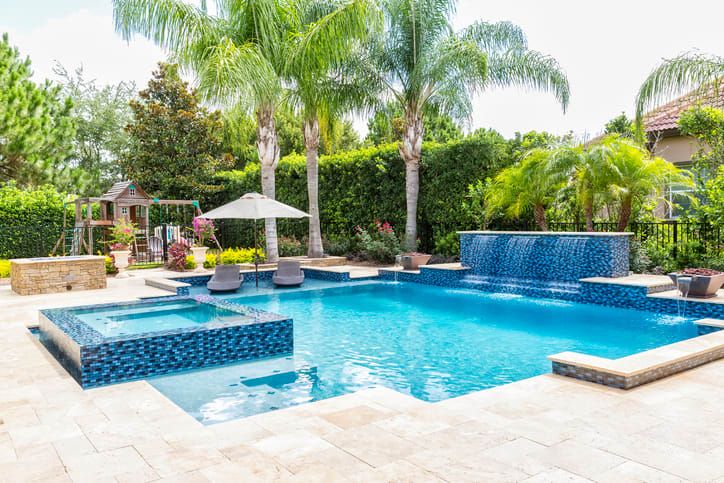 What Is A Pool Deck?
A pool deck, sometimes referred to as a pool patio, surrounds one's swimming pool. This is the space where lounge chairs, tables, and other backyard furniture can be arranged. The pool deck accentuates the look and feel of your swimming area, so it's important to select high-quality materials when constructing a pool deck. Whether you're looking to install or enhance a modern concrete pool decks or stone pool deck, our professional team can help. We can help create a stylish and inviting pool deck that is well-constructed and non-slip. It will be the perfect place for family fun.
The Benefits Of A Pool Deck
When you add a pool deck to your swimming pool area, you'll get to enjoy a wide range of benefits. These benefits include, but are not limited to, the following:
Slip-Resistant Surface – When a surface becomes wet, it can cause slips, falls, and other accidents. When we construct a deck, we use a coating with a textured surface to help prevent injuries caused by slipping. This is an added safety if your family includes young children or pets. We can ensure this even with a decorative concrete stone pool deck.
Less Expensive – When you hire our expert team to professionally coat your pool deck instead of completely redoing it, it will be less expensive while still producing results you'll love.
Less Money On Maintenance – Because the decks we create are porous, dirt and other debris won't soak into the material. This allows for quick and easy cleanup, as well as the prevention of staining and discoloration due to the elements. Your maintenance will be significantly reduced for your swimming pool area with stained pool deck maintenance.
Easy On Bare Feet – The material we use to coat swimming decks is resistant to heat absorption, meaning that it stays cool to the touch and is comfortable to walk on barefoot.
The Pool Decking Options We Offer
Whether you need new pool decks for above ground pools, the addition of stone or concrete to your current pool deck, pool deck pavers, or another pool decking service, the team at Millennium Pools & Spas can help. The material and color you choose for your swimming pool deck are entirely up to your taste and needs. We can lay a concrete deck that connects virtually seamlessly with your bond beam, or an intricate pattern of stone or pavers can comprise your pool deck resurfacing.
Pool Decking Vs. Pool Coping
When it comes to pool decking and pool coping, these are two different things. Pool decking is a much later task, and the results of pool decking services are much more noticeable. Decking will be large enough to accommodate furniture, such as chairs, tables, and even outdoor grills. Additionally, pool decking allows property owners to create aesthetically-appealing spaces that are also functional. Pool coping, on the other hand, is a cap around the edge of a swimming pool. It is typically made from stone or concrete. Pool coping divides the pool and the decking.
Contact Us Today For Professional Pool Decking Services
If you live in Frederick, MD or Springfield, VA and need professional pool decking services, you've come to the right place. Whether you want a new above pool decks installed or an existing one repaired or renovated, we're the team for the job. To learn more about our services, contact our team today. Millennium Pools & Spas looks forward to serving you and all your pool-related needs.