Skip to Content
Residential Pool Covers in Maryland
Guard against accidents, seal out debris and keep the pool area attractive all year long! A swimming pool safety cover stretches tight across the pool to form a barrier over any in-ground pool, regardless of the pool's shape and size. Accurate and formfitting the cover conforms to garden walls, spas, boulders, raised bond beams and other custom applications.
There are two types of safety covers: Mesh and Solid both offer superior protection for your family. Mesh covers do have one safety advantage: they do not permit water to collect. In order to meet safety cover standards, solid covers must provide for the elimination of standing water. The solid safety covers Millennium Pools & Spas installs offer two options to remove water from the cover itself: one with "invisible" mesh panels that allow water to drain through, and an all-solid version with an automatic cover pump.
Mesh Safety Pool Cover
An industry innovation, our exclusive mesh lets water through while providing 100% shade to significantly reduce algae growth. Combining the pros of both mesh and solid covers, it's lightweight and features the highest burst strength, tear strength and abrasion resistance.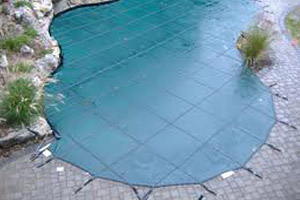 Solid Safety Pool Covers
Our "tension-secure" solid safety cover offers security plus a complete barrier to water, dirt, dust and sunlight. Additional features include an automatic pump or patented window mesh filter panel to remove standing water.
Request an Estimate
Our estimates are free, professional and fair. Most estimates require a site visit. Response time will vary depending on the time of the year and the type of request.