Skip to Content
Damaged PVC Pipe Removal in Ijamsville, MD & Springfield, VA
Watertight PVC Pipe Fittings for Your Pool
Millennium Pools & Spas is committed to helping you care for your swimming pool, including all the pipes and fittings that work behind the scenes to keep the water fresh and clean. Repairing and replacing PVC pipes is a normal and necessary part of pool maintenance over the years, but to prevent future leaks and protect the longevity of the repairs, it shouldn't be a DIY project. Contact Millennium Pools & Spas to get an estimate for your backyard or commercial swimming pool in Ijamsville, MD, or Springfield, VA, and the surrounding communities.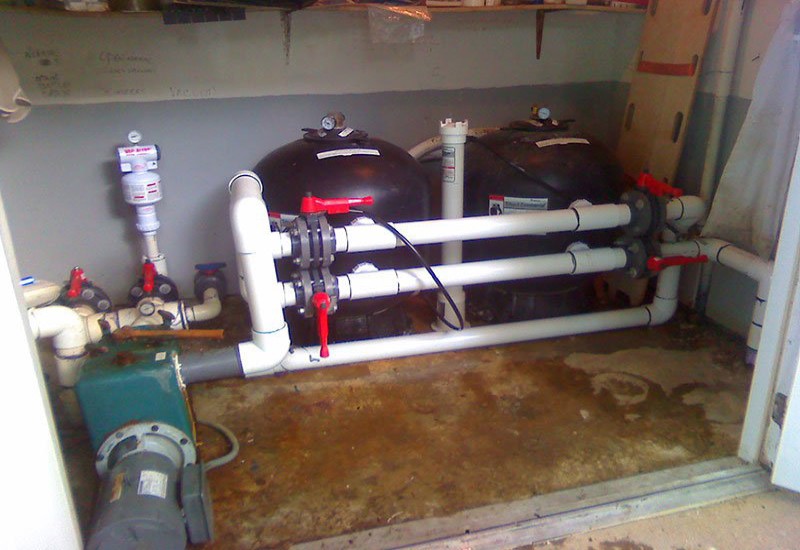 Types of PVC Pipes and Joints
PVC (or polyvinyl chloride) is a common and durable plastic found in all kinds of products, and easily recognizable when it comes in the form of thick white or black plumbing pipe. Most pools today are engineered with 1.5- or 2-inch PVC Schedule 40 pipe in the system. The pipes themselves are joined together with specialty waterproof glue and ultimately connected to other pool components like the heater, filter, and pump using a threaded connection.
PVC Pipe Damage
Our team repairs PVC pipe damage for three main reasons, so we think that you as a homeowner should know the common culprits. The first, of course, is poor installation. Anytime you need to work with plumbing, especially in large volumes as with a swimming pool, you need to call a professional to avoid major water damage and prevent water waste in the future.
Depending on whether the PVC pipe is buried or not, both direct sunlight and underground debris can slow wear a pipe system. From freezing soil and sharp rocks to intense UV rays from the sun, PVC is not impervious to the elements. Finally, high water velocity traveling inside the pipe system can create pressure and spring leaks, particularly at pipe joints.
PVC Pipe Removal
Take a look at our gallery of photos to see what age and other issues can do to a PVC pipe. If pool maintenance reveals your swimming pool needs fresh plumbing, our team will help. After draining the pipe system safely, we'll use heat or a saw blade, depending on the type of joint, to separate sections of the plumbing. A special drill allows us to fully remove the damaged sections or fittings, and we can replace the parts or clear them with a rotor to make sure water can flow freely in and out of the pool.
While our team is always happy to explain our process and help homeowners or business owners learn more about their own plumbing systems, working with high-volume PVC pipes for a swimming pool is a job intended for professionals only. The amount of water passing through the pipes means that a leak, clog, or another problem is no small issue, and the water damage on that scale will be extremely expensive to repair as a result of amateur installation. Contact us for more information and a free estimate today.
Request an Estimate
Our estimates are free, professional and fair. Most estimates require a site visit. Response time will vary depending on the time of the year and the type of request.