Skip to Content
Swimming Pool Design & Build in Maryland
Commercial Pool Services by Millennium Pools & Spas
At Millennium Pools & Spas, we have been working for decades to provide our Springfield, VA customers with exceptional commercial pool services. We understand that a pool is a significant investment that deserves the proper maintenance, repair, and care to ensure it retains its value as long as possible. With more than three decades of experience under our belts, you can call on our team of professionals for your commercial pool services. A custom-designed pool will not only be a beautiful addition, but it will also significantly improve the curb appeal of your commercial property.
Preparing to Design Your Commercial Pool
When it comes to swimming pools, the design possibilities are endless. There's more to the design and build process than meets the eye. That's why our team of commercial pool builders has dissected the steps to create a clear explanation for our Springfield, VA customers. When you rely on us for commercial pool services, you can expect that our team will carry out the following:
Administration of shop drawings, product data, samples, and submittals
Construction field observation and analysis
Construction cost accounting
Measurements
Agency consulting, review, and approval
Project schedule monitoring
Maintenance and operational programming
Inspection coordination
Supplemental document development
Start-up assistance
Record drawing
On-site observation, troubleshooting, and technical support
After construction consultation, occupancy and programing of facility
Warranty reviews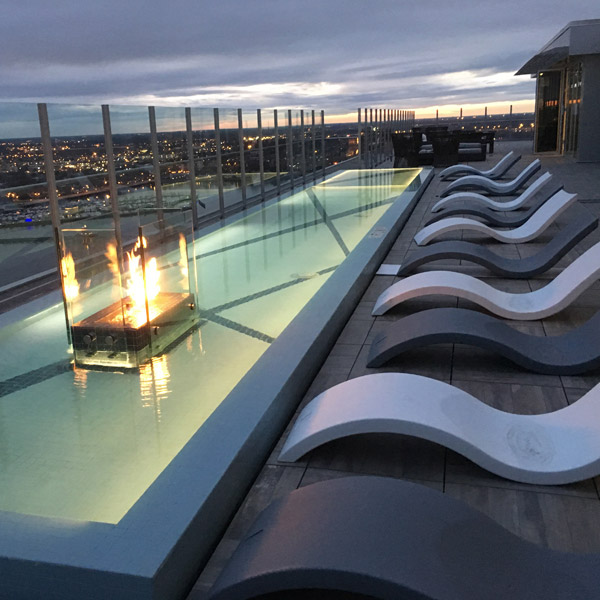 Overview of the Design and Build Process
We cover all the bases to ensure your commercial pool is built in just the way you imagined! We strive to be as thorough and transparent as possible, so our clients aren't left in the dark for a second during our commercial pool services. After all of the measurements are taken, and our team has taken adequate notes of your landscape, we will determine if your project meets all necessary and current standards. Once this is confirmed, the design process takes full-effect! Keep reading for a comprehensive step-by-step guide to understanding the design and build process in its entirety.
Step One: Visualize Your Commercial Pool Goals
One of our highly trained technicians will work with you to determine your vision for your commercial pool. We will need to discuss every detail and feature to ensure we can accommodate your vision as much as possible. After all, we want you to design your pool! We're just here to make your design needs come to life. We will take the following into account during your commercial pool design consultation:
Available space
Terrain
Sun exposure
Detail development
Pool material
Safety
Budget
Once your commercial pool design is established, and we collectively agree on the project's plans and budget, the Millennium Pools & Spas team will work with the county to ensure all building permits are approved. Upon approval, we will begin the build process at your commercial property.
Step Two: Building a Strong Foundation
Our commercial pool builders only use the highest quality materials for our client's commercial pool projects. Additionally, we understand that your commercial pool project will serve our community for years to come. That's why we never cut corners to ensure the safety of our Springfield, VA residents. Our commercial pool construction process is carried out in the following steps:
Layout and Set Elevation
When the site is ready for construction, the pool layout of your commercial pool will be laid out and adjusted if necessary.
Strip Topsoil
The topsoil will be taken away from the site and stockpiled for later distribution. We dig our own pools, which allows us the ability to spend extra time to grade the job, saving you money.
Excavate Pool and Pour Filter Pad
You can rest assured that your pool is being dug by industry-trained experts that take every safety precaution!
Install Stone Base
We ensure proper structural integrity for the base of your pool by installing the stone base to accommodates to your pool's hydrostat plugs.
Install Plumbing and Equipment
Once everything is dug up, we will install the plumbing and any electrical conduit.
Install Steel
Our pools are installed with steel rebar to ensure the maximum strength needed to handle any freezing or thawing.
Shoot Concrete
We will use either a gunite or shotcrete process to encase the rebar.
Install Tile and Coping
Once the concrete has had time to cure, the tiling and coping will be installed.
Install Pool Deck/Patio
We will lay down the stone to account for thawing and freezing throughout the winter. We will then pour the concrete for your commercial deck or patio.
Regrade Topsoil
Once all the concrete is in place, we will redistribute the previously dug up soil to the site, removing any branches, rocks, or other particles for a clean finish.
Plaster and Fill
We will apply plaster to your pool as a protectant top coat. When your commercial pool is finished being plastered, it will be filled with water the same day! Once your water chemistry is balanced, your commercial pool is ready to use.
Install Addition Features
Finally, any additional features you requested for your commercial space will be installed. This could be fences, planters, and more! The possibilities are endless when you work with Millennium Pools & Spas.
Commercial Pool Builders You Can Trust!
With over three decades of experience in the industry, Millennium Pools & Spas has been providing customers with quality design and build services for your property's commercial pool. Our team understands your needs and works quickly and efficiently to create a finished project that perfectly matches your vision. Contact us today to learn more!
Request an Estimate
Our estimates are free, professional and fair. Most estimates require a site visit. Response time will vary depending on the time of the year and the type of request.