Skip to Content
Residential Swimming Pool Inspection in Maryland
We Provide Pool Service
At Millennium Pools & Spas, we provide comprehensive care for your residential pool in Frederick, MD and Springfield, VA. We offer a variety of services, from cleaning and maintenance to pipe removal and replacement. One of our most popular services is our residential pool inspection that checks all components of a pool to ensure they're in good working order. We offer these inspections at an affordable rate and complete all steps thoroughly, so you get a detailed report on the state of your pool. If you are interested in learning more about our pool inspections, please reach out to our team today to schedule an appointment.
Who Needs a Pool Inspection?
Our pool inspection services are most often utilized by people looking to buy or sell a home that has a pool in Frederick, MD or Springfield, VA. This allows a buyer to know that the pool is sound before they decide to make a purchase. As a seller, a pool inspection provides written documentation of the pool's condition to any potential buyers, which could help you get a quicker and larger offer. If you're on the hunt for a new home or you're ready to put yours on the market, our pool inspection services are for you.
Why are Pool Inspections Important?
As mentioned above, pool inspections are most useful for those looking to buy or sell real estate with a pool. An examination of the pool will provide an up-close look at the current condition of the pool, pointing out any areas for concern so they can be addressed before the sale is complete. At Millennium Pools & Spas, we'll provide a thorough pool inspection and a detailed report for you to keep for your records. A pool inspection is important for all of the following reasons:
Peace of mind
If you're buying a property, you want to be sure you're making a wise investment. You don't want to blindly purchase a property and realize later there are problems. A pool inspection will give you peace of mind knowing that the pool is in good condition and won't be a money pit after you complete the purchase.
Negotiating tool
As a buyer, you're hoping to get the best deal on the property you want. If a pool inspection reveals concerns, you can use it as a negotiation tool to get a reduced price. You could also use it as a way to encourage the owners to make the necessary repairs by telling them you won't buy unless the problems are addressed.
Proof to buyers
If you're selling a property, you want to showcase all the good features of your home. Having a pool on your property is enough to grab the attention of potential buyers, but you want them to know that it's in good shape. A pool inspection will provide documentation to potential buyers letting them know the pool has been looked at and approved by a professional.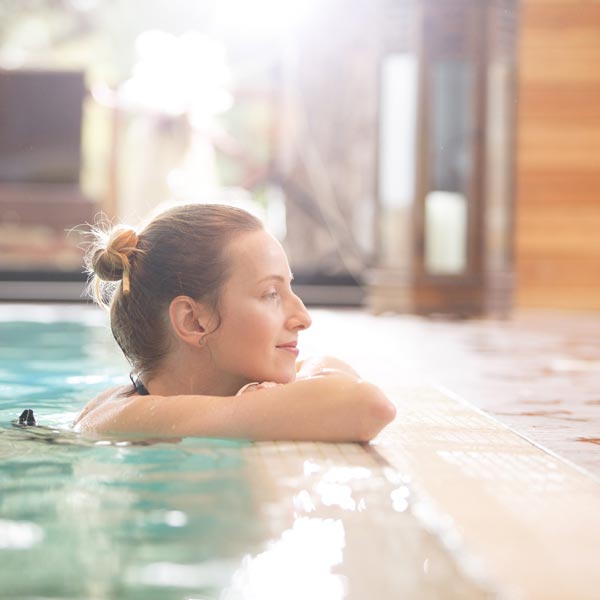 What Does a Pool Inspection Cover?
You may be wondering what aspects of your pool an inspection covers. A proper pool inspection will check all the major components of your pool and the surrounding area to ensure everything is as it should be. If anything is damaged or creates a cause for concern, it's noted in the report, so any potential buyers of the home or the seller have a clear picture of the current condition of the pool. During a pool inspection, all of the following areas will be inspected:
Safety
The safety of a pool is one of its most essential features. A pool inspection will check all areas of the pool to make sure it's safe for use. An inspection will ensure all electrical wires are away from the pool, that walkways do not pose a tripping or slipping hazard, that fences are of appropriate height, and all latches function correctly, plus much more.
Pool interior
The interior of pools either have a vinyl liner or are finished with plaster. Damage to either could mean a costly repair. During a pool inspection, we'll check for any tears or cracks in the pool interior to make sure repairs won't be necessary.
Lighting
All lights inside the pool will be checked for proper operation. We'll also make sure there is no condensation inside the lights as that could cause a mold or mildew problem.
Pump
The pool pump circulates water through the important cleaning features of the pool system, helping to keep the water clean and sanitary. We'll check to make sure the pump is working to do this vital job.
Pool tile or decking
We'll check the area immediately surrounding the pool, known as the coping, for any uneven or damaged spots that could create a tripping hazard. We'll also check the area around the coping, known as the decking for any possible damage as well as proper drainage.
Filter
The pool filter is what separates contaminants from your pool water, allowing the water to stay sanitary. We'll make sure the filter is working correctly so water can pass through it and be cleaned.
Corrosion
If you have a saltwater pool, you need to ensure the salt is not corroding important parts of the pool. We'll check for any areas of corrosion.
The area surrounding the pool
A pool inspector will look at the area around your pool to make sure there aren't any glaring issues. We'll check the position of any nearby roof gutters to make sure rainwater is not able to drip into the pool and that natural features of the yard do not affect pool enjoyment.
What Does a Pool Inspection Cost?
At Millennium Pools & Spas, we provide our residential pool inspection services at an affordable rate for Frederick, MD and Springfield, VA homeowners. We charge a flat rate of $250 for our through pool inspections, in which we do a complete visible inspection of all major pool components and compile our findings into a detailed written report for you. The report will include an evaluation and description of the condition of each part. This will allow you to know which areas are a cause for concern and which are in good shape. Please reach out to us if you have any additional questions.
Request an Estimate
Our estimates are free, professional and fair. Most estimates require a site visit. Response time will vary depending on the time of the year and the type of request.