Skip to Content
Commercial Pool Renovation in the Washington DC Metro Area
Over 30 Years of Experience Renovating Commercial Pools
Millennium Pools & Spas provides commercial pool renovation services throughout Virginia, Washington DC, and Maryland. As the go-to pool renovation contractors in the Washington DC Metro Area, you can rely on our professional team of experts to go above and beyond for your commercial swimming pool. For more than 30 years, locals have been able to count on us to provide them with premier services and exceptional customer services, which entails being expertly guided through the entire renovation process, including sales, account, project management, and more. Pool renovation is our specialty.
What is Swimming Pool Renovation?
Swimming pool renovation is the work done to enhance one's pool. It can be as simple as refinishing the pool's plaster surface or adding new waterline tile. It can also be as complex as altering the shape or built-in features of the pool. Swimming pool renovation is a broad term that can include installing new accessories or adding new built-in features to your pool.
Signs It's Time to Renovate Your Commercial Pool
When your commercial swimming pool shows signs of damage, it's time to renovate. If you're considering hiring our professional company for renovation or repair services, reach out today for a free consultation. We can inspect your pool and help you make an informed decision. However, if your pool has been consistently repaired already, it's likely time to renovate. Signs it's time to renovate your commercial pool include, but are not limited to, the following:
Your Pool Requires Consistent Repairs – If your pool has been consistently repaired already, it's likely time for renovations. As a business owner, you know it's no secret that swimming pools are big draws for customers. Additionally, if your pool because damaged or outdated, it's your responsibility as a business owner to upgrade and redesign it to your liking.
Your Pool Continually Breaks Down – When your pool keeps breaking down, you may begin noticing worn-down walls, leaks, and cracked surfaces. These are all indicators that more significant problems are underway. If your pool has a weak structure, it can buckle under the pressure and weight of the water. A renovation gives you the advantage of picking the design of your pool.
Your Pool is Leaking – When your pool is leaking, it can cause a wide range of problems. Not only can it alter the pH levels in the pool's water, but it can also cause algae to grow.
Your Pool Needs an Update – The aesthetic design of one's property can always benefit from an updated pool. When you update your pool, you can choose its shape, tile color, and any new features you want it to have. Doing this will ensure your pool is more enjoyable to use.
Your Pool Has Safety Hazards – As a business owner, you don't want your pool to be a liability to the safety of your guests. You help keep your guests safe by making sure your pool is safe. Modern safety features of your commercial swimming pool might include having an extended shallow end, having non-slip surfaces, or having a safety fence or pool cover.
Your Pool Needs Updated Equipment – Utilizing older pool equipment can be harmful to energy efficiency, as well as the safety of your guests. It's essential to keep your chlorine products, pool lighting, and more, updated to ensure optimal efficiency and safety.
Your Pool Lacks Energy Efficiency – When your pool is over 10 years old, it can potentially become harmful to the environment and your wallet—especially if your pool is equipped with an older, high-cost heating system.
Your Property's Landscaping is Being Updated – When your commercial property's landscaping is undergoing changes, it gives the incentive to update and renovate one's pool as well. This can help ensure that your landscaping and pool are well integrated.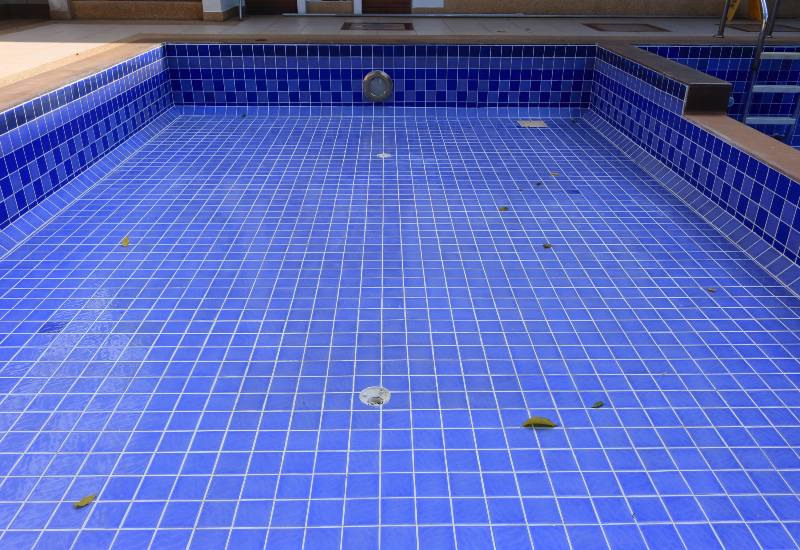 The Commercial Swimming Pool Renovation Process
Every company's commercial swimming pool renovation process is likely to vary slightly. With every project we take on, we provide a timeline. The standard process employed by our team is as follows:
Drain & Demo
Feature Additions
Coping Installations
Paver Installation
Pool Prep
Interior Pool Finish Installation
Pool Start-Up
Clean-Up
Pool School
Commercial Pool Renovation Ideas & Options
Here at Millennium Pools & Spas, we have the swimming pool renovation ideas to take your commercial pool to the next level. We can completely remake your pool with new plaster, tile and coping, pool deck surfacing services, lights, equipment, control systems, saltwater systems, and more. Our renovation team can provide all levels of renovation, from a minor touch-up to full-scale upgrades. Whatever your renovation needs are, we're the team for the job. With ample pool renovation ideas and options, our professionals can help turn your commercial pool vision into a reality.
Factors to Consider While Renovating Your Pool
While undergoing commercial pool renovations, there are numerous factors to consider. But don't let that overwhelm you because the Millennium Pools & Spas team is here to help. If your pool is suffering from equipment or structural problems, that's something to consider. If the commercial property you just purchased had a pool or fountain that didn't match your design aesthetic, that's another factor to consider. Our experienced team can provide renovation services for pools, spas, and fountains. When you contact our commercial pool renovation contractors, we will help you consider what factors—such as new mechanicals, new sanitation, and cosmetic upgrades—are needed for your pool.
The Types of Commercial Pool Renovation
There are various types of commercial pool renovation. A renovation for your commercial pool might include new mechanics or sanitation or even a complete overhaul of its plumbing system. A renovation may also include cosmetic upgrades in tile, coping, or plaster. Some of the most common types of commercial pool renovation include, but are not limited to, the following:
Coping Stones
Tile Repairs
Expansion Joint Repairs
Pool Resurfacing
Filtration Systems
Underwater Pool Lighting
General Pool Renovations & Repairs
Why Choose Millennium Pool & Spas?
Millennium Pool & Spas provides commercial pool owners with premier services and expert renovations. We boast over 30 years in business and provide commercial and residential pool services. With a wide range of commercial pool service available, commercial property owners can expect various options to maintain and enhance their commercial pool. As a local leader in commercial pool renovation, our valued customers come to us for pool maintenance, preventative care, salt and saline systems, new commercial construction, pumps, heaters, equipment, and more. We are an Association of Pool & Spa Professionals member and are honor-roll-rated on Angie's List. To learn more about what our customers think of our services, check out our customer review.
Contact Us Today for Commercial Pool Renovation
Whether you need renovation or remodeling services for your commercial pool, we're the team for the job. We have managed the local commercial pool renovation needs for over three decades from Springfield, VA to Frederick, MD. To learn more about our commercial pool renovation services or to schedule a consultation, contact us today. We look forward to working with you.
Request an Estimate Today