Skip to Content
Pool Painting in Virginia, Washington DC, and Maryland
Residential Pool Painting Frederick, MD & Springfield, VA
Painted pools account for approximately 20% of the pools in the area. Painted pools are much more common in the southern states. Millennium Pools & Spas paints roughly 5 to 10 pools per year. We provide free estimates for painting pools.
Before
After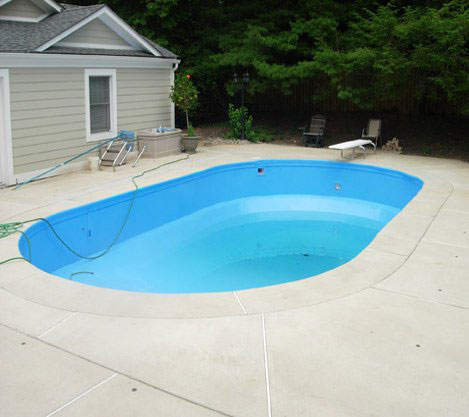 Epoxy Coatings
Epoxy coatings are the most popular coating that we apply. Epoxy paint is the longest lasting and can be used on concrete, plaster, gunite, and fiberglass. Epoxy provides a hard, tough, durable coating, epoxies offer excellent stain, and abrasion protection. Epoxy paint can be applied thick enough to assist with smoothing rough surfaces. Epoxy paint requires 3 days to dry and the surface must be dry when applied. Epoxy paint will usually last 3 to 5 years and is available in many different colors.
Another paint option that we can offer is water based acrylic paint. We can apply this paint on any type of surface, the cost savings by using acrylic is minimal. We often use this type of pool paint on commercial pools that are painted yearly. It may only last 1 year.
Successful paint applications are dependent on numerous conditions.
Sandblasting is highly recommended to remove existing paint.
Proper mixing and application are a must to insure a smooth surface that cures properly.
Basic Painting Procedures We Use
We will determine the condition and type of paint was used last time on the pool. Drain and clean pool. Remove hydrostatic all relief plugs.
Scrape old, loose paint.
We will suggest owner consider sandblasting the surface if existing paint is in very poor condition. Additional charge will apply if required.
Cracks in the pool shell will be cut with saw or grinder. Chip any soft or loose areas and fill with cement. Caulk cracks and patch any areas that are rough enough to accept cement with hydraulic cement. Additional charge will apply if required.
Acid Wash the pool with a 30% water, 70% acid solution.
We will then clean pool with a soap solution to neutralize the acid
We allow surface to dry and begin the application.
We use electric mixer to mix paint.
We will use a paint with roller and sprinkle sandy nonskid material on steps.
Owner must wait 3 days, then fill the pool.
Owner may want to remove standing water if it rains after paint is applied. Use a sponge or leaf blower to dry pool.
Pool Paint Color Chart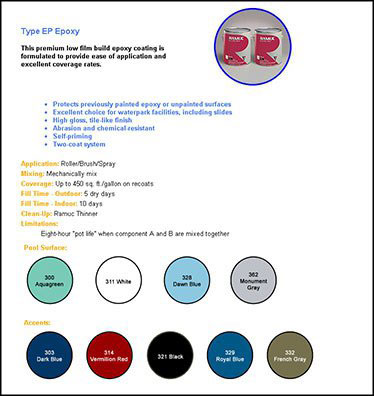 Some Problems With Painted Pools
Painted pools may fade over time, a light acid wash may help. Acid can remove dirt and chalking. Chalking results over time and causes a white powdery residue that can rub off. To avoid this, water chemistry is the key. The total alkalinity 150 PPM to 200 PPM. When alkalinity is too low the paint will rub off. Shock treatments can also cause the pool paint to chalk. If the pool is filled too soon (before three days) causes fading or chalking. Super-chlorinated water can cause a "bleached-out" look. The "shock" of calcium hypochlorite can cause a whitish deposit. Iron in water may leave deposits or stain the film. Epoxies will chalk to some degree due to U.V. rays from the sun.
Request an Estimate
Our estimates are free, professional and fair. Most estimates require a site visit. Response time will vary depending on the time of the year and the type of request.