Skip to Content
Commercial Fountain Cleaning in Maryland
What Is Fountain Cleaning?
A water fountain provides a beautiful accent to any area but keeping it clean is essential if you want it to continue looking good and working at its best. Whether you're cleaning the water fountain yourself, or hiring a fountain cleaning service, regular attention will help prolong the life of your fountain.
When you work with Millennium Pools & Spas, we'll send a trained technician out to service your fountain. A professional fountain water cleaner inspects the mechanical components as well as the aesthetic elements. They'll ensure the water level is correct and make sure the water pump is working. During the cleaning, they'll drain the water, remove any debris, and scrub the inside of the fountain.
At Millennium Pools & Spas, our team has the skill and know-how to provide service, cleaning, and repairs for your fountain. Contact us today to request a free estimate.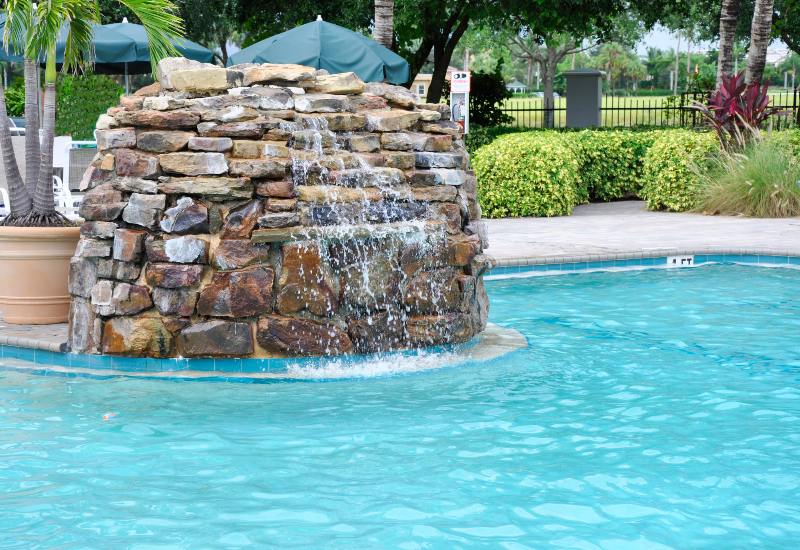 Water Fountain Cleaning Guide & Removing White Scale
Fountains must be cleaned frequently to keep the water clear, ensure the pump is clean and working correctly, and to remove build-up like white scale and algae. Most fountains require cleaning at least once per month, although some may be able to go on an every-other-month schedule. To remove white scale, use a mild cleaning product and non-abrasive sponge to remove any build-up.
When you work with Millennium Pools & Spas, we can set up a regular maintenance schedule for your fountain and pool, and we'll use tools like a water fountain vacuum cleaner to make sure your fountain is pristine and clean. Call us to learn about the weekly and bi-weekly packages we offer.
Step-by-Step: Cleaning a Water Fountain
Turn off the fountain and remove any stones.
Remove the water pump; it will also need to be cleaned.
Empty all the water out of the fountain.
Clean the fountain with a gentle cleaner and non-abrasive sponges or brushes. Continue cleaning until all visible scale, algae, and deposits are gone.
Ensure all soap or cleaning products are rinsed away.
Clean the pump. Put it in the sink, remove its back, and then use a toothbrush or other small brush to scrub the pump and remove any debris.
Replace the cover on the pump and replace it in the fountain. If possible, also clean the tubing that attaches to the pump.
Prevent & Eliminate White Scale Buildup and Algae Growth
Like any other water feature, water fountains can accumulate calcium and lime deposits, algae, and white scale. Regular cleaning prevents these nuisances from developing into problems. One solution is to use distilled water in your fountain, or to add a product formulated to prevent buildup. After mineral buildup has appeared, you can use a fountain cleaner like CLR (Calcium Lime Remover) or vinegar and water. Algae must be frequently addressed since it will occur in any water fountain, regardless of what you do, and can not only ruin your fountain's appearance, but can also clog your pump.
One of the easiest ways to ensure your fountain or swimming pool fountain is squeaky clean always is by hiring Millennium Pools & Spas. Our team has extensive expertise in cleaning, repairing, and maintaining pools, spas, and fountains. Contact us to learn more about our commercial service.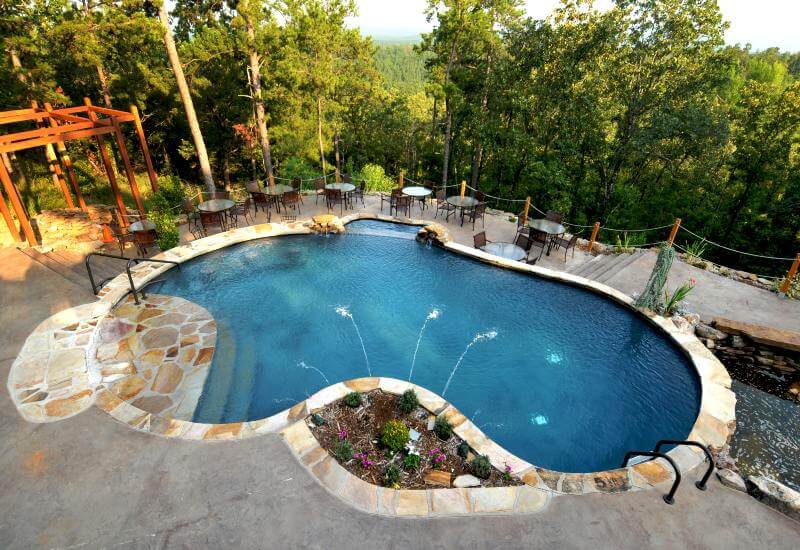 Why Choose Millennium Pools and Spas in Maryland, DC & Virginia?
If you want to keep your pool fountain, spa, or decorative fountain clean and working flawlessly, Millennium Pools & Spas can help with a regular service plan. We offer weekly and bi-weekly maintenance packages for regular service that include checking chemicals, vacuuming, and skimming the swimming pool, backwashing filters, and cleaning the deck area.
Contact Millennium Pools & Spas for Fountain Cleaning
In business since 2006, Millennium Pools & Spas in Virginia provides a full slate of services for cleaning, repairing, and maintaining your pool, spa, or fountain. We service residential and commercial pools throughout Maryland, Virginia, and DC. Fill out our contact form for more information or to ask for a free estimate or call us to speak to one of our professional team members.
Request an Estimate
Our estimates are free, professional, and fair. Most estimates require a site visit. Response time will vary depending on the time of the year and the type of request.