Skip to Content
Vinyl Liner Replacement Frederick, MD & Springfield, VA
Millennium Pools & Spas replaces liners on all types of pools and can make repairs and changes to your pool deck as needed. We use only the highest quality liners available and follow a detailed procedure to ensure your liner lasts as long as possible.
Call today for a free Estimate 703-939-5062 or 301-591-3750 to replace your Vinyl Liner.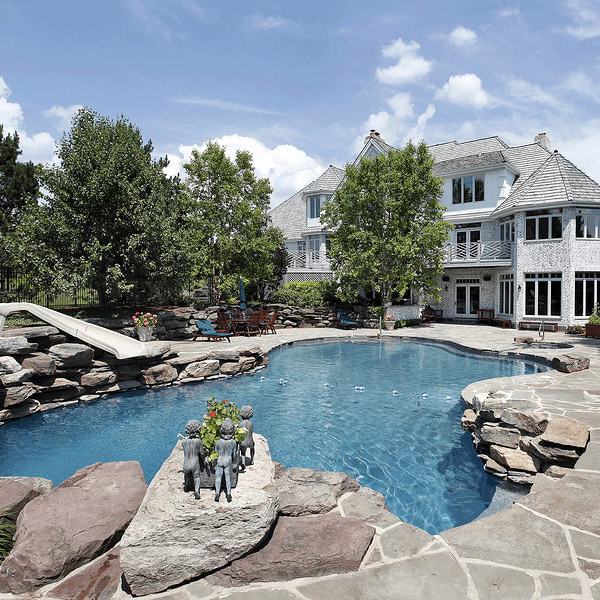 Every Pool – Custom Fit
We will measure your pool carefully to ensure a perfect fit. Once we double-check the measurements we will order the line. Owners must let us know what pattern they would like and the vinyl thickness that they would like.
Areas Where We Replace Swimming Pool Vinyl Liners
We replace pool liners throughout the Washington DC metropolitan area including Mclean, Alexandria, Stafford, and Fairfax Station in Virginia and Montgomery and Prince Georges counties in Maryland.
Pool Fill Water
If you have city water service we can fill the pool with your hose saving you up to $1000 on the cost of trucked-in water. Homes serviced by well water will need to have water delivered to fill the pool. Owners can schedule this directly or request that we coordinate the delivery and pay the supplier directly.
Brands of Vinyl Liners That We Offer
We can offer various brands of liners but the most common liner we offer is made by Loop Loc.
Patterns can be chosen at — https://www.looploc.com/
Loop-Loc Liners
We offer over 20 elegant designer patterns!
Manufactured using the highest quality vinyl material. Resists puncturing, algae, mold, and mildew..
Patterns designed only for Loop-Loc
20 Year Pro-Rated Warranty
Many patterns available in 20 mil and 28 mil
State-of-the-art technology and manufacturing equipment ensure a perfect fit on all pools from simple rectangles to the most complex form fits.
Basic Procedures of Vinyl Liner Install Guide
Measure pool (best if pool is empty)
Prior to install liner (day before)
Remove old liner and clean floor, Use blower
Repair floor as needed
Tape and seal seams in wall
Install Foam on walls
Preparing the Pool Base
The pool base must also be free of all items that would protrude into the liner. In the case of a sand bottom, remove all rocks and foreign matter, wet the sand and trowel into place.
Installing Pool Liners
Using a Wet-Dry-Shop vacuum, remove the deck plate and run the suction hose down through the skimmer and out approximately 18″ through the mouth of the skimmer, so that the suction hose is between the pool wall and the liner. Pack the skimmer hole with damp rags to create an air seal.
Continuation of Filling
Allow the pool to fill until the water level is high enough on the pool wall so that the liner is tight against the wall all around. AT THIS TIME, you may turn the vacuum off and remove the suction hose.
Install Liner Lock on the entire pool
Call 703-939-5062 today for a free proposal to replace your vinyl liner
We also repair leaks in vinyl liners utilizing state of the art electronic liner leak detection equipment.
Request an Estimate
Our estimates are free, professional and fair. Most estimates require a site visit. Response time will vary depending on the time of the year and the type of request.