Skip to Content
How to Save Critters from Drowning in Your Swimming Pool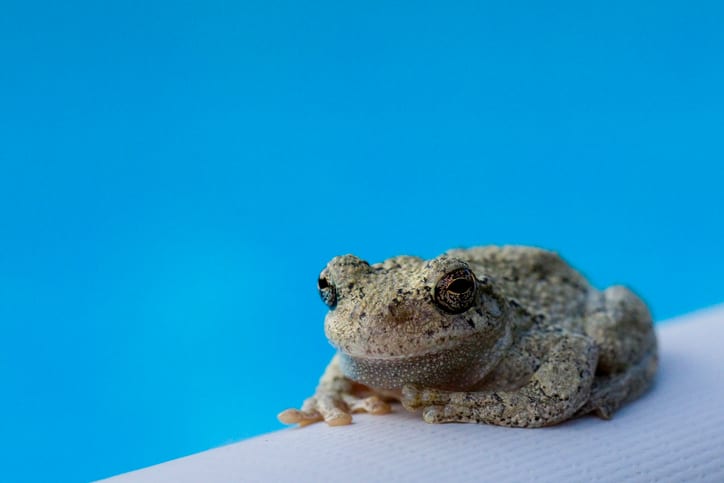 Do you feel guilty every time you find a drowned frog or mouse in your backyard swimming pool? Losing wildlife this way is a shame, but thankfully, it's completely preventable! Follow these tips to keep critters away from your pool next summer and help save them if they fall in.
Implement Preventative Measures
The best option is to keep animals from making their way into your pool in the first place. Here are some ideas to try:
Trim the trees: By not allowing branches to overhang your pool, you can save young birds, squirrels, raccoons, and opossums from falling in.
Eliminate food sources: After enjoying a pizza pool party, make sure you clean up the food and drinks to avoid attracting animals. Also, keep garbage can lids tightly shut, and feed your pets inside.
Install a fence: Fencing around the pool helps prevent large animals from wandering too close to the water.
Use sprinklers with infrared lights: Some automatic sprinkler systems are available with infrared beams. These detect animal movement and deliver an unexpected spray of water to scare the critter away.
Spray natural animal repellent: A solution made of cayenne pepper and water makes an environmentally friendly repellent. Spray it around your property to deter wildlife from getting too close.
Design or Modify Your Pool with Animals in Mind
If you don't have a pool yet, but you plan to put one in once the ground thaws in the spring, design it with animal safety in mind. For instance, you might build ramps, steps, or ledges along the sides to make it easier for animals to get out.
Even if you already have a pool, you can make modifications to help keep animals safe. For instance, you can install skimmer baskets and pool overflow covers or grates to prevent small wildlife from being swept in.
You can also add simple products to help save animals from drowning. Here are some ideas PETA recommends:
Ropes: Affix ropes around the edges of your pool at water level to give struggling animals something to hang onto and help them climb out.
FrogLog: This floating platform attaches to the side of your pool, acting as a raft for small animals.
Critter Skimmer: This skimmer cover comes with a spiral ramp that lets frogs and other small animals climb out.
Skamper-Ramp: Available in two sizes, the Scamper-Ramp hangs on the edge of the pool and provides a safe escape for animals of all sizes, including family pets.
Paws Aboard Doggy Boat Ramp: While this set of mini-stairs is designed for boats, it also works well in pools. Attached to the side, it dips into the water for a trusty escape route.
Saving critters from a watery demise isn't just animal-friendly—it also keeps your pool cleaner. Millennium Pool Services can help with all your pool cleaning needs. For more tips, or to schedule services, please contact our Frederick, MD or Springfield, VA location today.
Request an Estimate Today