Skip to Content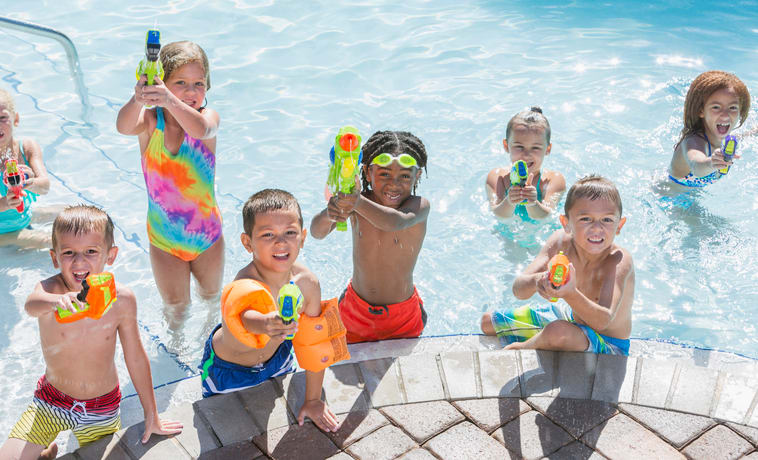 Does your child have a summer birthday? If you have a backyard pool, this is the perfect place to throw a party! Follow these steps to make your child's pool party a success.
Pick a Theme
While you can go with any theme you want, such as your child's favorite TV show or cartoon character, it's particularly appropriate to pick a water-based theme. Pirates, mermaids, dolphins—there's no shortage of nautical ideas to choose from.
Send out Invitations
Etiquette states you should send out birthday party invitations about four weeks before the event to give guests time to plan and RSVP. Remember to make it clear that this is a pool party so guests know to bring a swimsuit, towel, and other accessories.
Plan a Menu
You can't go wrong with barbecue favorites like hamburgers and hotdogs. Other popular choices for lunch include a taco bar, sandwiches, and other picnic food. Plan to serve sweet, refreshing treats for dessert, such as Popsicles, ice cream, and candy. Consider asking about food restrictions in your invitations to ensure you accommodate everyone.
Think of Games
While your child's friends may keep themselves entertained just by splashing around in the water, it's wise to have some organized games planned both in and out of the water. Here are a few simple ideas:
Marco Polo
Sharks and Minnows
Pool volleyball
Limbo
Water balloon toss
Ring toss
Piñata
Arrange Entertainment
Poolside games are great, but sometimes, kids just want the freedom to entertain themselves. Here are some things to have on hand for your child's summer pool party:
Inflatable water slide
Bounce house
Snorkel mask and flippers
Pool noodles and floats
Portable speaker to play music
Make Party Favors
As a token to remind them of the fun day they had, send your guests home with small party favors. While you should continue to keep your theme in mind, here are some ideas to inspire you:
Bubble solution
Squirt gun
Bath toys
A personalized beach bag tag
Lollipops and stickers
Prepare Your Pool
With the party all planned out, the final step is to make sure your pool is ready. Schedule pool maintenance for a week before the party to balance the water chemistry, vacuum the pool, clean the skimmers, backwash the filter, and blow the deck area. These steps should take place every one to two weeks throughout the summer months.
It's also important to schedule leak detection if you suspect your backyard pool is losing water. Signs of a pool leak include higher water bills, cracks in and around the pool, standing water in the yard, unstable water chemistry, and algae blooms.
Contact Millennium Pool Service today to schedule the pool maintenance and leak detection services you need to get your pool ready for your upcoming party. We have two convenient locations in Frederick, MD and Springfield, VA to better serve you.
Request an Estimate Today