Skip to Content
Planning the Perfect Summer Staycation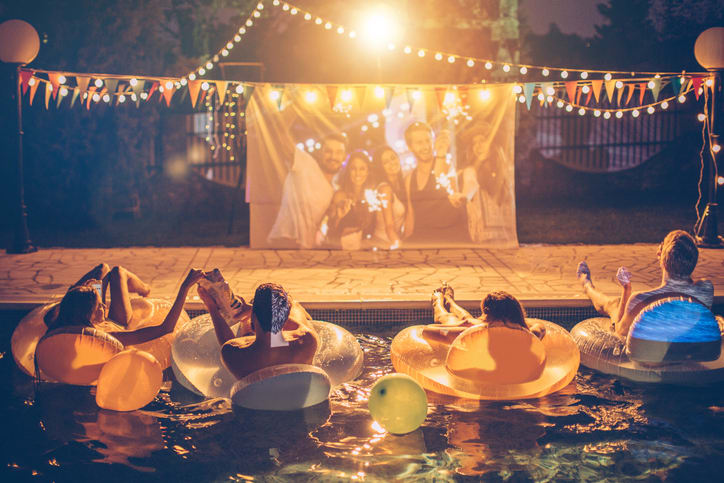 Many people get excited about traveling for summer vacation, but if your work takes you away from home, sticking around may sound like a more appealing way to spend your time off. If you have a backyard pool, you're all set for a dreamy summer staycation. Here are some ideas to maximize your relaxation.
Invite Guests Over
One great thing about staying home instead of traveling is that the family and friends you love are nearby. Invite them over to join in on your staycation. Who wouldn't want to take you up on your invitation to relax in the spa-like retreat you've built in your own backyard? You'll enjoy catching up and relaxing together on lounge chairs by the pool—just remember to wear sunscreen!
Make or Order Food
Have you been looking forward to firing up the grill ever since the weather started warming up? Now's your chance to barbecue a feast for your friends and family. You don't have to do the work alone—ask everyone you invite over to contribute a dish, and get the whole family involved in preparing the meal.
Of course, if you're not excited about cooking for a large group, make your staycation more relaxing by having food delivered. Whatever you choose, you'll enjoy dining al fresco by the pool.
Listen to Music
Whether you play music for background noise during a large gathering or by yourself once everyone has left, music helps complete any staycation experience. It can be lively to encourage dancing, tranquil to help you let go of your stress, or romantic to make the most of your time with that special someone.
Swim Laps
At last, work isn't taking up all your time, so now is the perfect opportunity to exercise in the water. Enjoy the peace and privacy of swimming laps in your very own backyard pool, as opposed to sharing it with rowdy kids at a hotel. It's yet another benefit of choosing a summer staycation instead of a vacation!
Make it Romantic
Your backyard pool is an incredibly versatile setting. Where else can you host your child's birthday party and plan a romantic dinner? If it's just the two of you on your staycation, turn the pool into a dreamy getaway by lighting candles, enjoying a drink, playing romantic music, and watching the sunset by the pool.
Add a Pool Service Package
Relax on your staycation, and let a professional handle the pool cleaning and maintenance! With pool servicing from Millennium Pool Service, you can enjoy all the benefits of owning a pool with none of the hassles. We offer pool vacuuming and cleaning, filter backwashing, water chemistry balancing, and more. Along with weekly visits throughout the summer, we can also open and close your pool for one flat rate.
To speak with a professional pool technician about the services you require, please contact Millennium Pool Service. We have two convenient locations in Frederick, Maryland and Springfield, Virginia to better serve you.
Request an Estimate Today