Skip to Content
FAQs About Accessibility Requirements for Commercial Pools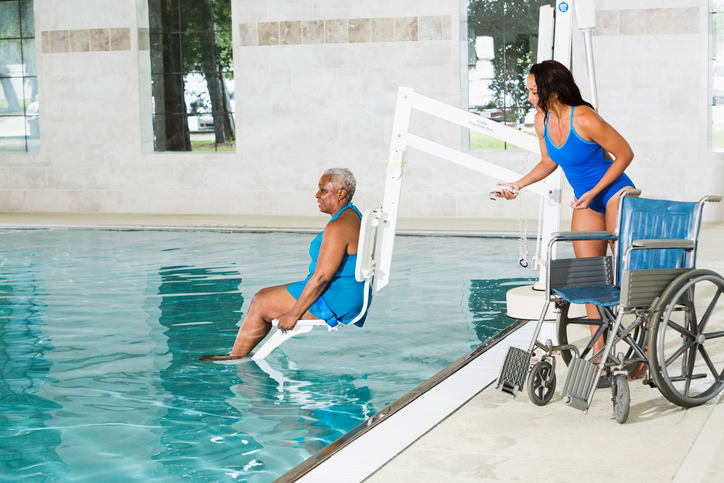 Swimming pools at hotels, health clubs, recreation centers, and other businesses must be accessible to everyone, including those with disabilities. Here are the answers to some of the most frequently asked questions about the Americans with Disabilities Act (ADA) and how it relates to public pools.
What does the ADA require swimming pool accessibility?
The ADA prohibits public accommodations from discriminating on the basis of disability. It requires business facilities, including swimming pools, to remove accessibility barriers when doing is readily achievable.
Examples of accessible pool entries include stairs, slopes, lifts, and transfer systems. Depending on the size, some pools may be required to have two entry/exit points at opposite ends.
What are the requirements for existing pools?
It's fairly straightforward to build a new pool to accommodate accessibility requirements, but existing pools may be more difficult to modify. The ADA only requires changes to pools built before 2010 if providing better access can be done with minimal effort and expense. This is determined on a case-by-case basis, with the goal of ensuring that ADA requirements don't unduly burden small business owners.
If pool owners can make improvements at a low cost, even if such improvements don't fully comply with the ADA, they should do so. For instance, fixed lifts that attach to the pool deck are ideal, but if it would be too difficult or expensive to make this addition, providing a non-fixed lift to improve pool access would be acceptable.
What if complying with the ADA is cost-prohibitive?
Tax credits are available to businesses with 30 or fewer employees or total revenue of $1 million or less in the previous tax year. The credit covers 50 percent of the cost to make a pool more accessible, for a maximum credit of $5,000. Further tax deductions of up to $15,000 are available for funding the cost of barrier removal and alterations.
Do I have to close my pool if I can't comply with the ADA?
No. If no accessibility improvements are readily achievable, you can continue to operate your facility as usual. However, the Department of Justice recommends building a plan to improve pool access at a later time when it becomes easier to do so.
Do private or neighborhood pools require ADA-compliant stairs?
ADA accessibility laws don't apply to private backyard pools or community pools limited to the exclusive use of neighborhood residents and their guests. Even though ADA regulations don't apply, Millennium Pool Service still recommends installing stairs in community and residential pools. They allow swimmers of all ages and ability levels to participate in the fun. Stairs are also an important safety measure, making it easy to get out in an emergency, such as if a child or pet falls in the water.
Millennium Pool Service can help you comply with accessibility requirements by installing ADA-compliant stairs. They make a great addition to both commercial and residential pools. To learn more or request a quote, please contact us today in Frederick, MD or Springfield, VA.
Request an Estimate Today