Skip to Content
8 Pool Safety Tips Every Parent Should Follow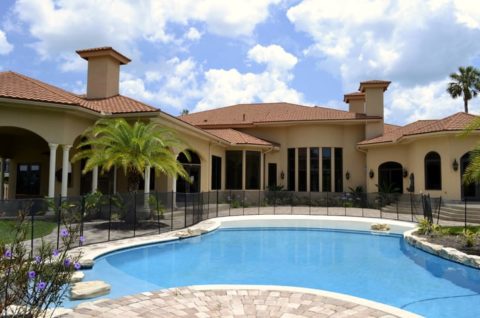 Backyard swimming pools provide countless hours of family fun every summer. As a responsible pool owner, it's vital to follow certain safety tips to prevent injuries, especially among children. Here are the top eight ways to keep your kids safe when playing in and around the pool.
Set Up a Childproof Pool Fence
With a fence around the pool's perimeter, you prevent wandering pets and curious children from getting too close to the water. Millennium Pool Service installs childproof pool fences with secure locks to ensure your kids can play in the yard unsupervised without creating a drowning hazard.
Install Non-Slip Pool Decking
Even if you enact a no-running rule, slips and falls are bound to happen if the surface around your pool is too slippery. Consider updating the pool deck as part of a pool renovation project to improve safety.
Use Compliant Drain Covers
Faulty drain covers can create deadly suction, potentially trapping animals or children under the surface. All public pools must have grates or covers that comply with the Pool and Spa Safety Act to prevent hazardous situations. Make sure your backyard pool meets these standards as well.
Wear Life Jackets and Floaties
According to the US Consumer Product Safety Commission (CPSC), 75 percent of children injured in pool accidents are between 1 and 3 years old. Make sure all young children playing in your backyard pool have life jackets or floaties on at all times.
Lock Up Pool Chemicals
It's important to treat your pool with the proper chemicals to keep it sanitary, pH balanced, and algae-free. However, chlorine tablets, water balancers, and algaecides can be extremely harmful if swallowed. Keep your supply locked up in a safe place so your kids can't find them by accident.
Never Leave Children Unattended Near the Water
Pool play can be chaotic. It's easy for a child to go under the water and never resurface without splashing or yelling for help. To prevent incidents like this, designate an adult Water Watcher with the job of supervising children while they play in the water. Make sure that person isn't reading, texting, or otherwise distracted so they can give their full attention to the kids in the pool.
Teach Your Children How to Swim
Swimming is not only a fun form of exercise—but it's also a lifesaving ability everyone should have. Work on building your child's confidence in the water with skills like diving, back-floating, and treading water, or enroll them in swimming lessons to learn these skills from a trained instructor.
Learn CPR
Bystanders are often the first to help a drowning victim. Sign up for a CPR class to earn your certification, and you just might save a life someday.
The experts at Millennium Pool Service can help you create a safe pool environment for your family. To learn more about our pool services, or to request a consultation, please give us a call. We have convenient locations in Frederick, MD and Springfield, VA to better serve you.
Request an Estimate Today