Skip to Content
The Steps of a Pool Renovation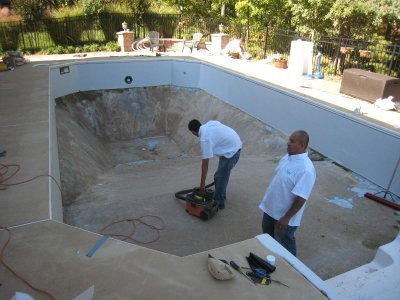 After a few years, even the novelty of a pool can start to fade, but with pool remodeling near Frederick, you don't have to be bored ever again. Whether you're planning a complete swimming pool renovation, or you simply need some new features, you can make your pool, the deck, or any surrounding water features look brand new.
Deciding on Your New Design
You can't easily make a new pool if you don't know how you want it to look. Do you want to change it from a straight, lap pool to a more oval shape? Maybe you can build a joining spa to relax in the hot water. Even a new liner can make a world of difference to your swimming pool renovation.
Completing Simple Renovations
When it comes to a large body of water, there aren't many "simple" renovations, but there are some less costly and time-consuming changes compared to others. Installing a new liner or resurfacing the pool can be a simple change. You can update the color and design of the liner to better reflect you; or, if you notice the pool surfacing is cracking or fading, you may consider a complete resurfacing job.
Completing Larger Renovations
A much larger pool renovation would involve more construction, either of the deck or the pool itself. If you want to change the shape, add on to your pool, or take away from it, then consult your pool contractor on the best way to achieve this kind of renovation. You can also build a fountain or waterfall to add more beauty to your pool. Along with new decking materials, such as flagstone, travertine, or concrete, you can create a new pool in just a few steps.
Calling Your Pool Contractor
Don't forget the person who should be with you every step of the way during this process: your pool contractor! They can help you from start to finish during your pool remodel. From design to construction to completion, your pool contractor is going to be your new best friend for a few months.
Request an Estimate Today