Skip to Content
The Steps of Pool Renovation in Virginia & Maryland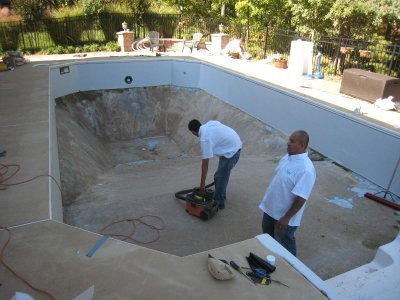 What Are the Steps of My Pool Renovation?
Are you interested in remodeling your swimming pool? Where do you start? Whether you have a residential or commercial swimming pool, it can be a daunting task to start the renovation and remodeling process – but it doesn't have to be! When you work with Millennium Pools & Spas, we help you elevate your pool with beautiful, professional remodels. Remodeling involves significant budgeting and important decisions before work begins. We make the process easy and hassle-free, taking care of you every step of the way. Our team has over 35 years of combined experience to provide you with peace of mind and insight throughout your pool renovation. We'll go over the specific steps and how we can help you make the most of your pool renovation. Whether you're ready to get started with a renovation or you need some help with designs and decisions on how to remodel your pool, contact our team.
Planning Your First Steps
We will start your pool remodel with an assessment of your current pool environment and a consultation of your expectations, budget, and timeframe. This gets everyone on the same page, so we can provide you with the very best pool remodel that meets your design needs, wants, budget, and estimated start time and completion time. This also allows us to give you an estimate on the project. There are several factors that influence the estimate, including possible delays, materials, completion dates, size of remodel, weather, and more. We prefer to stay transparent with our clients throughout the remodeling process, so you always know how your project is coming along. We stay on top of anticipating any possible setbacks so we can plan accordingly and prevent them from happening, fulfilling your pool remodel on time and on budget!
The Remodeling Process
Draining Your Pool
We start your renovation and remodel by draining the water from your pool. We will place a submersible pump at the bottom of the pool with a hose leading out to an appropriate drain. This process can take anywhere from six to 12 hours, depending on the size of your pool. You'll notice the pump has completed removing the water from your pool when the sound changes. We advise homeowners to simply unplug the pump's power cord, and we will get started with the next process!
Chipping Out
After your pool's water is completely drained, we begin chipping and priming the pool's surface. If you have requested a tiling, this is the stage where we conduct it. Chipping can be loud and takes about half a day to complete. We then clean up the gunite shell and clean your pool environment, getting it ready for tiling.
Tiling
During our consultations and discussions of remodels, the homeowner selected their preferred tiles for the newly-remodeled pool. In the tiling process, we apply the grout. This can take one or two days, depending on the size of the pool and the number of tiles. If you chose a plaster finish, we add the tile trims on the steps on the final day of the plastering process.
Surface Application
We bring in our trucks to mix pebble and plaster to the correct consistency and volume. We then pump the mixture using large hoses into your swimming pool. At the same time, our plaster artisans hand trowel your plaster to the surface. This process takes about four to six hours.
Pebble Application
We complete the pebble application with an acid wash over your pool's surface. This process is the start of pre-filling. This process only takes a few hours.
Adding New Water
After everything is in place, we add water back into your pool. The homeowner must be present during this process as the water must reach halfway up the tile line or the skimmer opening before we turn the water flow off. It is incredibly important not to turn off the flow of water before completely filling up the pool. Water lines can form on the inside of your swimming pool, ruining the aesthetic of your new remodel. Filling up your pool can take anywhere from 12 to 48 hours.
Chemicals
After filling your water, it's time to start testing pH levels and adding appropriate chemicals to create a safe swimming environment.
Contact Us Today
Let's get started remodeling your residential or commercial pool! The possibilities are endless for creating the perfect environment. Remodeling your pool is not only an investment in your present enjoyment of the pool, but it significantly increases your property value. The team at Millennium Pools & Spas looks forward to adding you to our list of satisfied clients. Some of the reasons we're the number one pool service provider throughout Virginia and Maryland are:
100% Customer Satisfaction Commitment
Over 35 Years of Combined Experience
Licensed, Bonded, & Insured Technicians
Wide Range of Commercial & Residential Services
Competitive Pricing
24-Hour Pool Technician Support
Constant Rotating Specials & Discounts
Strong Warranty and Guarantees
Comprehensive Opening & Closing Services
Contact us today to start your pool remodel in Virginia, Maryland, or the surrounding areas!
Request an Estimate Today