Skip to Content
Reasons to Schedule Leak Detection Services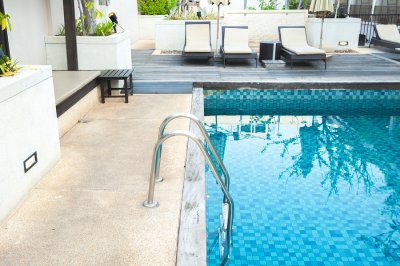 Proper pool maintenance is a key aspect of owning your very own swimming pool. While your swimming pool may appear that it is in proper functioning condition, water leaks and other maintenance problems can be lurking just beyond the surface of your pool water. A company that offers pool maintenance near Springfield can provide you with targeted pool leak detection services. In the event that your leak detection appointment reveals a hidden water leak, your pool contractor will be able to safely correct the issue. Here is an overview of three important reasons to schedule leak detection services for your pool.
Prevent Hidden Water Damage
When your pool has a water leak, it can cause significant damage to your pool deck and the surrounding areas. Water can cause damage to concrete, natural stone, and granite if it is left to leak for an extended period. By scheduling leak detection services for your pool, you can rest assured that a pool leak is not causing hidden damage to your pool materials.
Avoid Excess Water Use
Even the smallest pool leak can cause hundreds of gallons of water to leave your pool on a weekly basis. When you neglect to repair a pool leak, you may start to notice that your water bills are skyrocketing. Along with causing extra expenses, leaking water is also a waste of important natural resources. By repairing your pool leaks, you can rest assured that you are not losing water from your pool.
Keep Sinkholes from Forming
If a pool leak goes undetected for an extended period of time, it could cause damage to the foundation underneath your property. Extensive water damage could lead the affected area to collapse, which will create a dangerous sinkhole. When a sinkhole forms in your yard, you will find yourself scheduling costly repairs. Preventative leak detection is the best way to preserve your pool and surrounding areas.
Request an Estimate Today