Skip to Content
Factors to Consider When Renovating a Commercial Pool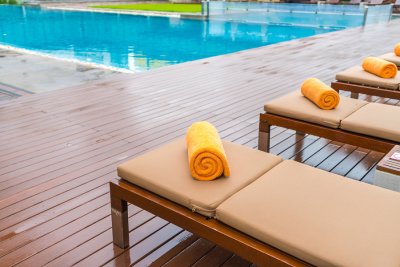 A new pool installation will add appeal to your commercial space. When your existing pool starts to look worn or old, however, it can actually detract from the overall appearance of your property. With services from a pool service company that offers swimming pool renovation near Frederick, you will be able to spruce up your aging commercial pool with brand new features. From pool replastering to pool painting and more, there are many different services that you can use to breathe new life into your commercial pool space. Read on for a glimpse at some factors to consider when you are renovating a commercial pool.
Pool Deck Safety
As the owner or operator of commercial space, it is very important to make sure that your clients and guests feel safe when they are using your pool. A pool deck that is slippery, cracked, or worn out can pose a safety threat to anyone who is in or around the pool area. During your commercial pool renovation, you may want to consider updating your pool deck with new materials.
Pool Appearance
When a client approaches your pool area, he or she will immediately take notice of its aesthetic and appeal. If your pool looks dirty or outdated, it may be less inviting to potential users. Your pool contractors will help you update your pool with new materials, colors, and features that can greatly enhance your pool's overall appearance. Updating the look of your pool will dramatically transform your entire commercial property.
Poolside Comfort
Ideally, your pool should provide each user with a comfortable and relaxing experience. In order to enhance poolside comfort, you can introduce special features, such as a poolside bar, a pergola, or updated landscaping. Providing your clients with shade and other amenities will encourage them to kick back, relax, and enjoy the time that they spend at your beautifully renovated pool.
Request an Estimate Today