Skip to Content
Green Pool Services to Save Energy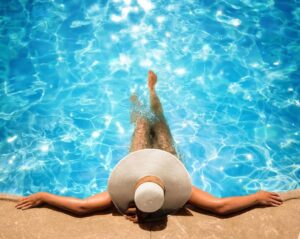 Ordinarily, the words "green pool" are a cause for concern because this indicates algae growing in the water. However, a green pool can actually be a good thing when it refers to conserving electricity and reducing chemical usage. If you're the proud owner of a backyard swimming pool, tap into these green pool services to save energy and do your part for the environment.
Solar Heat
Traditional electric and gas pool heaters can be expensive to operate. A solar-powered heat pump is a much greener option that virtually eliminates your pool heating costs. Be sure to cover your heated swimming pool when not in use to conserve heat and reduce evaporation by 30 to 50 percent. If you aren't using your pool for several days, turn off the heater altogether.
Pool Timers & Controllers
A simple time clock automatically controls when the pool pump runs each day. More sophisticated controllers are also available that govern the pool pump, heater temperature, pool lighting and more. Such automation prevents these systems from running 24/7 with no additional effort on your part.
Variable Speed Motors
Not only can you control how much your pool pump and heater operate, but you can also choose models with variable speed motors that consume less energy when they run. Most of the time, variable speed pumps and heaters operate at a low speed, only ramping up to full power when necessary. Variable speed pool components are more expensive than standard models, but the energy savings they provide help you recoup your investment.
Chemical Controllers
A chemical controller helps you avoid using more chemicals than necessary in your pool. The electronic device feeds the precise chemicals at the right time to ensure safe water chemistry. Your water stays clean with fewer chemicals, and you reduce hands-on maintenance.
Chlorine Generators
Your pool must remain sanitary, but swimming in an over-chlorinated pool can cause a burning sensation. Even bystanders can experience eye and nose irritation from the gases given off by evaporating water. Chlorine generators solve these problems by transforming common table salt into pure chlorine via electrolysis. The best part is the water feels softer on your skin and the nasty chlorine smell all but disappears.
UV Disinfectant
Reduce your use of chemicals even further by inactivating biological contaminants in your pool with UV disinfection units. Powerful ultraviolet light produces concentrated UV radiation to destroy microorganisms without harmful chemicals.
Millennium Pool Service is a factory dealer of Aquionics and Hanovia UV systems, which we repair, maintain and install in residential swimming pools in Maryland, Virginia and Washington DC. We also offer other green pool services to help you make the most of your backyard swimming pool while saving energy and reducing chemical usage.
To learn more about what we offer, or to request an estimate, please contact Millennium Pool Service today. We have two convenient locations in Frederick, MD and Springfield, VA.
Request an Estimate Today