Skip to Content
Common Questions About Pool Winterization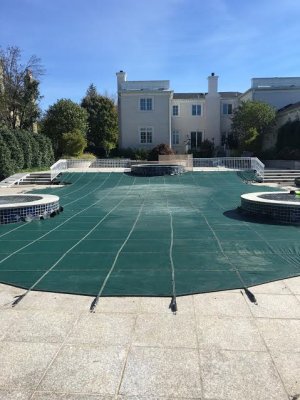 The winter season is nearly here. Whether you have a new pool construction, or you have enjoyed the same custom pool design for years, you will need to make sure that your pool is ready to withstand freezing temperatures and extreme weather conditions. A company that offers pool cleaning near Frederick will be able to provide you with all of the services that are required to winterize your pool. To help you get your pool ready for winter, here are answers to some common questions about pool winterization.
Does My Pool Need a Winter Cover?
When you are planning on winterizing your pool, you may have questions about whether your pool needs a special cover for the winter season. In fact, any pool that is located in an area that freezes during the winter months should be outfitted with a winter cover. This insulated cover will protect your pool from falling leaves and debris or other forms of damage that can occur during the winter months.
What Happens During a Pool Winterization Procedure?
As you are gearing up for a pool winterization appointment with a team of pool service professionals, you may want to take the time to ask about what types of services you can expect during the procedure. Typically, the winterization process involves lowering the water level, blowing out all lines and applying antifreeze to prevent pipes from freezing over the winter and winterize the equipment and applying winter chemicals. After the water, has been lowered, the pool cover can be placed. (it is not necessary for the water to be lowered to put the cover on)
Do I Need Special Winter Chemicals For My Pool?
Another key aspect of winterizing your pool is applying chemicals that will prevent your pool from freezing. – only antifreeze prevents the water from freezing in the pool lines. The chemicals applied in the pool water are to prevent algae from growing, many pool service companies offer winterization kits that contain all the necessary chemicals that are needed to prepare a pool for winter. Your pool repair technicians will be thrilled to answer any other questions that you may have about the process of pool winterization.
Request an Estimate Today