Skip to Content
How to Tell if Your Pool Has a Problem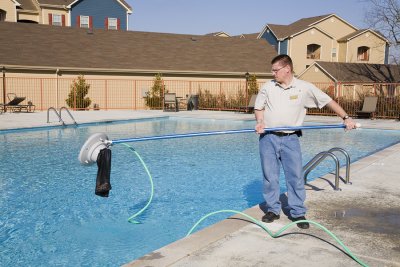 It might not be pool season yet in Virginia, but before you know it the days will be sweltering and you'll be longing to escape the heat in your swimming pool. To get the maximum enjoyment out of your pool this summer, it's important that you recognize the signs and symptoms of a pool in need of repair. In many cases the sooner you spot a problem and schedule an appointment with a pool service provider in Springfield , the easier and less expensive it will be to get your pool in tip-top shape for the swimming season. Contact a pool maintenance and repair company if you recognize any of these signs:
You Constantly Need to Add Fresh Water
Leaks are among the most serious problems pool owners can face. If you constantly notice that the pool water level is low and have to frequently add freshwater, this is a surefire sign that there is a leak somewhere in the plumbing, drainage, or even along the walls of the pool. A pool company can perform a leak inspection to pinpoint the leak and make the necessary repairs.
Your Pool Doesn't Have a Main Drain
If your pool was designed without a main drain (the drain at the center of the deep end of the swimming pool) this means it's operating at half the capacity it should be, which results in low circulation and poor filtration. If your pool doesn't have a main drain, call a professional pool technician to set up a vacuum system that replicates the action of the main drain for better circulation and improved filter performance.
You Have to Replace Filters Frequently
Speaking of filtration, if you are suddenly having to replace your pool's filters more frequently than before, this could be a sign that your filtration equipment is not properly sized for your swimming pool. To keep your pool sparkling clean and lower the stress on the rest of your plumbing and filtration equipment, contact a pool service company to install the proper size filter and pump for your swimming pool.
Request an Estimate Today