Skip to Content
Benefits of Upgrading to LED Pool Lighting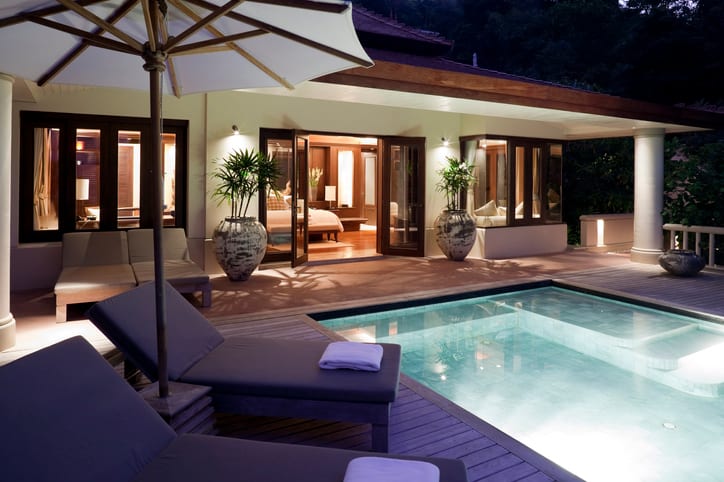 If you love your backyard swimming pool, you may especially enjoy swimming at night. Do you still illuminate your pool with incandescent lighting? Consider these reasons to upgrade to LED lights.
Brighter Glow
Most people think of light bulbs in terms of watts, but this doesn't indicate how much light the bulb generates; just how much power it uses. Brightness is measured in lumens. For instance, a 100-watt incandescent light bulb produces around 1,400 to 1,750 lumens.
Meanwhile, an LED bulb only uses 14 to 20 watts to generate the same brightness. Some of the brightest LED pool lights produce as much as 5,400 lumens while consuming only 60 watts!
Better Energy Efficiency
Thanks to the lower wattage of LED pool lights, they use only a fraction of the power needed to run incandescent lights. They also generate less heat, which is nothing but wasted energy. As a result, LEDs only cost pennies a day to operate compared to about a dollar for incandescent lights.
As a result, even though LED pool lighting costs more upfront, the investment pays you back in lower energy bills. You may even qualify for an energy-efficient lighting rebate from your local utility company.
Greater Durability
When you spend money on a pool upgrade, you want to know it will last. You'll be pleased to learn that LEDs aren't just famous for their energy efficiency—they also last years longer than incandescent lights before needing to be replaced.
Depending on how many hours you run the lights each day, you can expect a useful life of 15 to 20 years! This gives the lower operating costs of LED pool lights a chance to pay you back for your initial investment, and then some.
More Diverse Color Options
Incandescent lamps have only one color option. On the other hand, LED pool lighting is available in a rainbow of colors! Some advanced lights can be programmed using an app, letting you customize color schemes for holidays and pool parties. You'll love what a difference colored lights make when setting the mood for a swim after dark.
Superior Safety
Improved aesthetics and lower operating costs are reason enough to update your pool lighting system, but LEDs also enhance the safety of your backyard water feature. After all, because they use a lower wattage and generate less heat, LEDs produce brighter light than might be safely possible with incandescent bulbs.
LED lights also appear brighter and bluer, a quality that lets you illuminate your pool with fewer lights. Don't forget to add LED landscape lights for an aesthetically pleasing touch that also improves safety for people walking on the pool deck at night.
Upgrading to LED pool lighting could be part of your upcoming pool renovation provided by Millennium Pool Service. We can help you get more out of your backyard swimming pool! Get in touch today to request an estimate or schedule a consultation. We are conveniently located in Frederick, MD and Springfield, VA to better serve you.
Request an Estimate Today